2021 MODELS - 12v FUSE LOCATIONS
FUSE LOCATIONS
12v Fuse Box under Dinette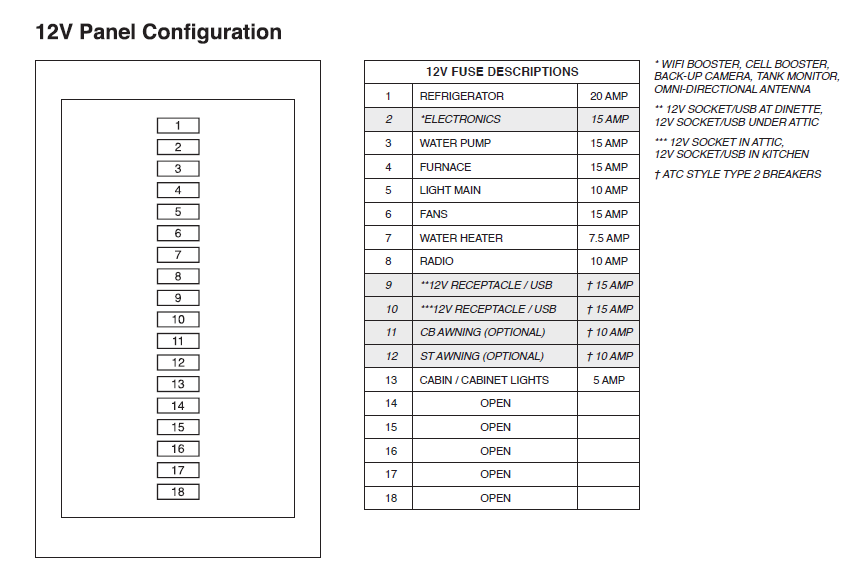 ELITE 2 MODELS

INLINE FUSES ARE LOCATED UNDER THE DRIVER SIDE BED ACCESS PANEL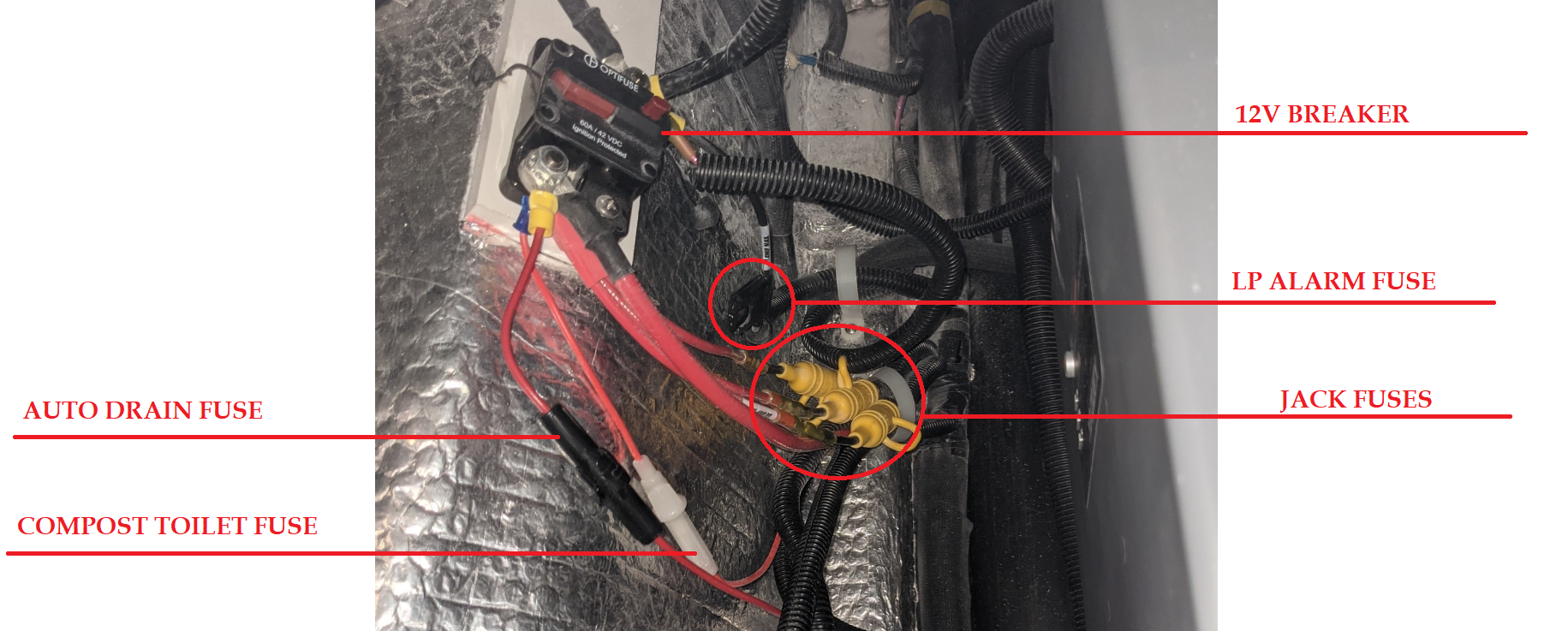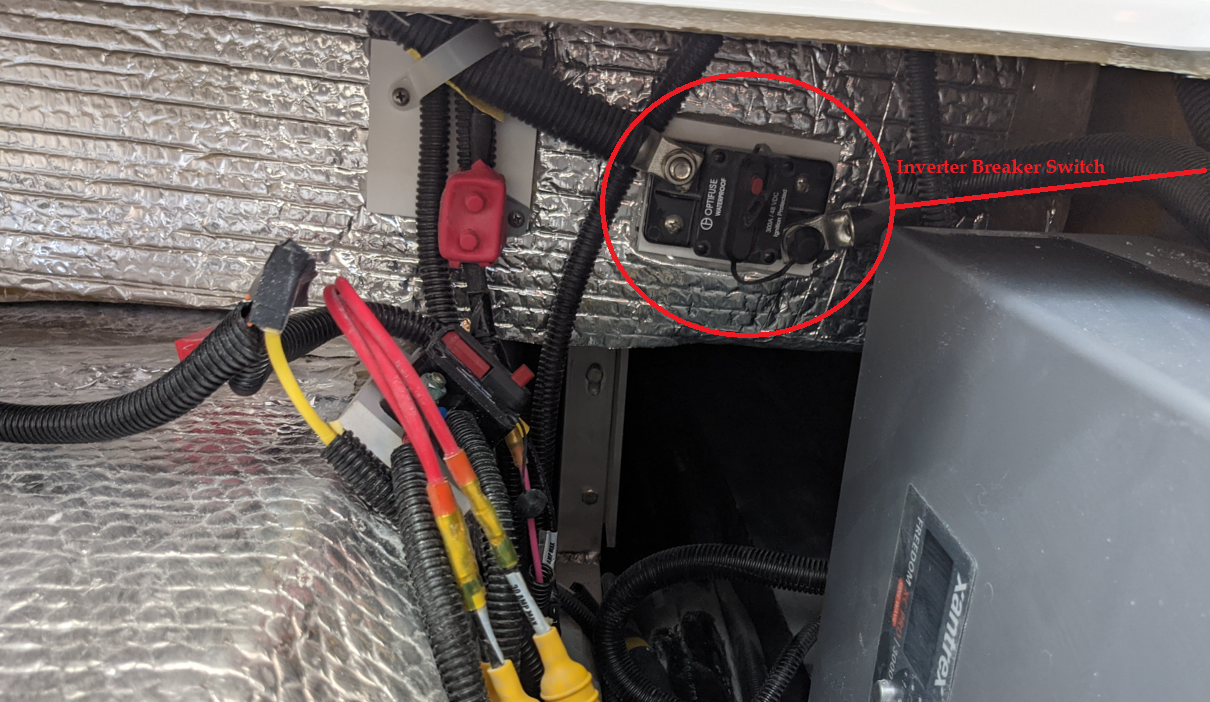 ELITE MODELS

*PICTURE BELOW DOES NOT SHOW ALL POSSIBLE INLINE FUSES BUT IS MORE FOR REFERENCE PURPOSES ON THE LOCATION OF THE FUSES.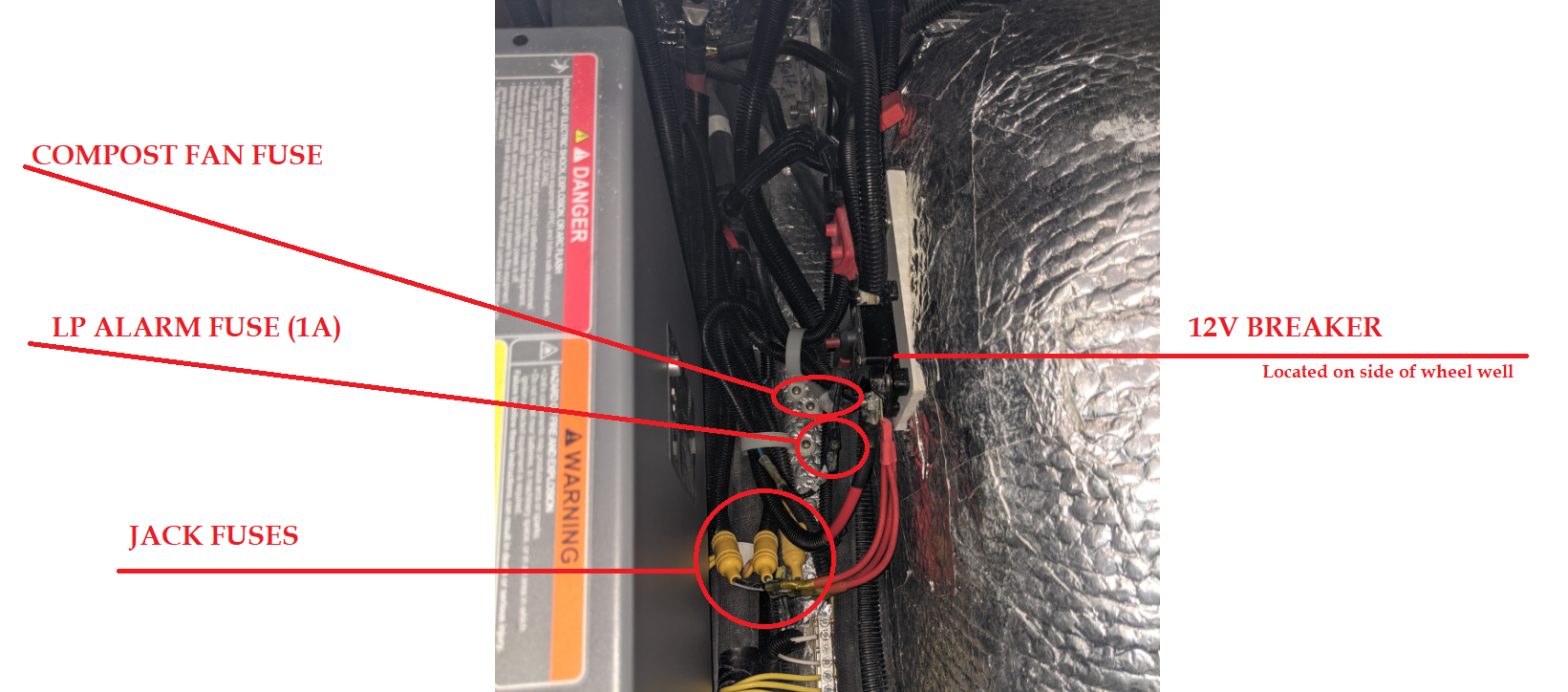 DISCLAIMER: NOT ALL MODELS WIRE RUNS WILL BE EXACT BUT THE CONNECTIONS SHOULD BE. THIS IS FOR REFERENCE ONLY TO HELP WITH LOCATING FUSES AS THERE IS NO WIRING SCHEMATICS AVAILABLE.
Related Articles

JACKS & JACK POINTS

The manufacturer of the on-board jacks does NOT recommend using the jacks to lift the weight of the trailer even as a temporary use for changing a tire. New model trailers (2017 & Newer) have an extended steel sub-frame assembly that provides ample ...

MaxxAir Fan Deluxe Operation, Troubleshooting & Warranty

NOTE: A beeping sound will confirm each key press Warranty 2-Years parts only. MAXXAIR Customer Service: Call: 316-832-3400 E-mail: rvpsupport@airxcel.com Fax: 316-832-3417

LITHIONICS BATTERY

LITHIONICS BATTERIES Lithionics Battery® uses an organic Lithium-ion Iron Phosphate chemistry in all of our lithium battery models. This naturally safe chemistry is paired with an internal shut down curtain technology inside each lithium cell, ...

2023 YM & Newer Xantrex Inverter/Charger Settings

XANTREX INVERTER/CHARGER SETTINGS Settings changed for 2023 YM & Newer due to the addition of the busbar system. Some voltage is lost between the battery & the inverter. DO NOT USE THE BELOW SETTINGS IF YOU DO NOT HAVE A 2023 OR NEWER CAMPER. ...

CONVERTER/POWER CENTER/FUSE BOX/BREAKERS - 2020 MODELS ONLY

All component breakers & fuses for the 2020 models are located in the lower shell. Some components may have inline fuses and therefore are not located or labeled here inside the breaker/fuse box. Standard models with charger built into converter box ...