Xantrex Inverter/Charger Settings (2020 - 2022 Models)
XANTREX INVERTER/CHARGER SETTINGS

SETTINGS ARE BASED ON THE TYPE AND QUANTITY OF BATTERIES IN THE BATTERY BANK

SETTINGS ARE PRE-SET FOR EVERY CAMPER BEFORE DELIVERY. ANY CHANGES TO THESE SETTINGS AFTER DELIVERY MAY NEGATIVELY IMPACT THE PERFORMANCE.

CHANGING THESE SETTINGS IS NOT RECOMMENDED AND ANY CHANGE MADE IS NOT COVERED BY ANY OF THE WARRANTIES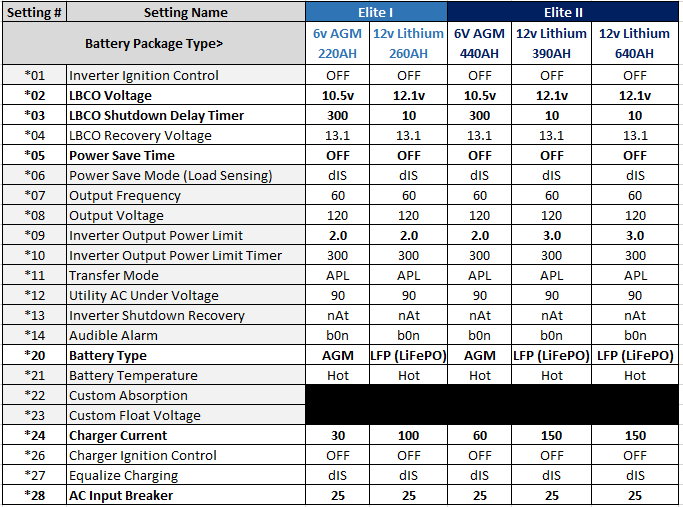 Settings #24 can be lowered for Lithium batteries if the charger is too loud for comfort however doing this will cause the batteries to charge at a slower rate. The rate should never be increased from what is listed above as it is already set at the max.

Setting #28 can be lowered to 15 when plugging into a standard 15a receptacle like you might have at home. This tells the inverter that it only has 15a of power to work with and it will give power to the load (A/C, Microwave, etc.) and stop charging the batteries. If you choose to change this setting be aware that your batteries may not charge if the load continues to be higher than required for proper charging. This would also be the case even when connected to a 30a power source if setting #28 is left at 15 as the inverter does not know what power source you are connected to.

IF YOU HAVE CHANGED BATTERY TYPES OR ALTOGETHER INSTALLED A BATTERY NOT SUPPORTED BY OLIVER TRAVEL TRAILERS, PLEASE CONTACT THE BATTERY MANUFACTURER DIRECTLY FOR ASSISTANCE ON THE PROPER SETTINGS FOR THEIR BATTERY.

BATTERIES SUPPORTED BY OLIVER: Brightway, Lifeblue, Lifeline & Lithionics.

SLA 12v battery packages are no longer offered with the inverter package. Some older models may have these batteries with a 2000w inverter and Oliver will continue to support this if it was original equipment.
Related Articles

2023 YM & Newer Xantrex Inverter/Charger Settings

XANTREX INVERTER/CHARGER SETTINGS Settings changed for 2023 YM & Newer due to the addition of the busbar system. Some voltage is lost between the battery & the inverter. DO NOT USE THE BELOW SETTINGS IF YOU DO NOT HAVE A 2023 OR NEWER CAMPER. ...

Xantrex Inverters

Overview Please visit the Xantrex website for the most up-to-date information: Xantrex Freedom XC Pro Website Please visit the Xantrex website link above and download the latest firmware update. You can click the attached document for instructions on ...

BATTERY CHARGE PROFILES

Please see attached documentation for Xantrex Freedom XC Pro and Progressive Dynamics for complete information on your charge system. Below information for quick reference only and we do recommend that you read the manual for your charger before ...

LITHIONICS BATTERY

LITHIONICS BATTERIES Lithionics Battery® uses an organic Lithium-ion Iron Phosphate chemistry in all of our lithium battery models. This naturally safe chemistry is paired with an internal shut down curtain technology inside each lithium cell, ...

XANTREX INVERTER - ERROR 20

ERROR 20 is a communication issue between the remote display & the inverter. Anytime power is cutoff from the inverter it requires a proper boot up sequence in order for the inverter & remote display to properly communicate. Power is cutoff from the ...