Xantrex Freedom XC Pro Inverter Settings

The only settings that are changed by the Oliver factory are: #02 ,#05, #20, #24 & #28, based on your options, and are in bold font below.

If you ever change the (OE) Original Equipment battery type, you would need to adjust your inverter settings to match the battery type and battery specifications recommended by that battery manufacturer. To ensure the proper settings you would want to review the battery specifications sheet or contact your battery manufacturer for assistance.

There are two settings that may require modification based on your travels and the power sources that you choose to connect to.

#21 - Battery Temperature: This setting can and should be changed based on the weather conditions at your current location if you have AGM, Flooded, or GEL batteries. If you have Lithium batteries the voltage does not change based on temperature. *Lithium batteries require a heat source when the temperature is below freezing. This may be a heat mat or built in heater inside the battery.

#28 - AC Input Breaker: This setting is set to 25 at the factory because the breaker size for the inverter is 25a and the main power supply is 30a which is greater than the breaker size. There may be times when you choose to connect to a generator that supplies a lower amount of power and/or a standard house receptacle by using an adapter. If you choose to connect to a power source other than the 30a shore connection then you may need to adjust this setting down to match the current incoming power supply. Example: A 2200w Generator will need to have the breaker input size changed to 15a for it to properly operate the camper.

Please see settings for your specific Battery Type below
*Areas highlighted in light blue below are the primary settings to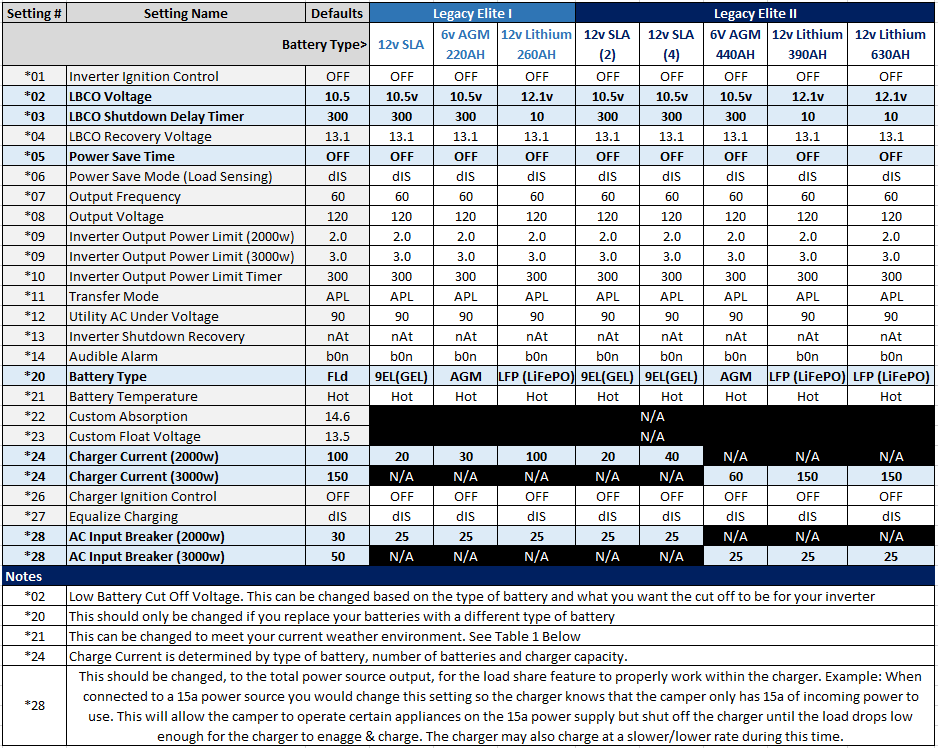 Table 1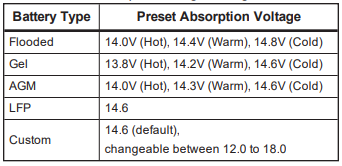 See attachments for complete Freedom XC Pro User Guide and battery spec sheets for each battery that has been available as an OE battery from Oliver in 2021 model campers and newer.

Bluetooth Remote Setup & Guide

Related Articles

BATTERY CHARGE PROFILES

Please see attached documentation for Xantrex Freedom XC Pro and Progressive Dynamics for complete information on your charge system. Below information for quick reference only and we do recommend that you read the manual for your charger before ...

Xantrex Inverters

Overview Please visit the Xantrex website for the most up-to-date information: Xantrex Freedom XC Pro Website Please visit the Xantrex website link above and download the latest firmware update. You can click the attached document for instructions on ...

LITHIONICS BATTERY

LITHIONICS BATTERIES Lithionics Battery® uses an organic Lithium-ion Iron Phosphate chemistry in all of our lithium battery models. This naturally safe chemistry is paired with an internal shut down curtain technology inside each lithium cell, ...

BATTERIES, LiFeBlue Lithium, LB12200-HCLT

LiFeBlue Battery 12 Volt, 200AH Model LB12200-HCLT Lithium Iron Phosphate (LiFePO4) For more information please visit the LiFeBlue website ...

HEATING PAD SYSTEM, FOR USE WITH LITHIUM BATTERIES

WARRANTY LIMITED LIFE OF THE ORIGINAL BATTERY THE HEATING PAD WAS INSTALLED WITH. TECHNICAL SUPPORT Visit ANNOD INDUSTRIES UNIVERSITY for self learning Contact: 574.970.4696 - Extension 106 or 112 BATTERY HEATING PAD INFO The heating pad is powered ...